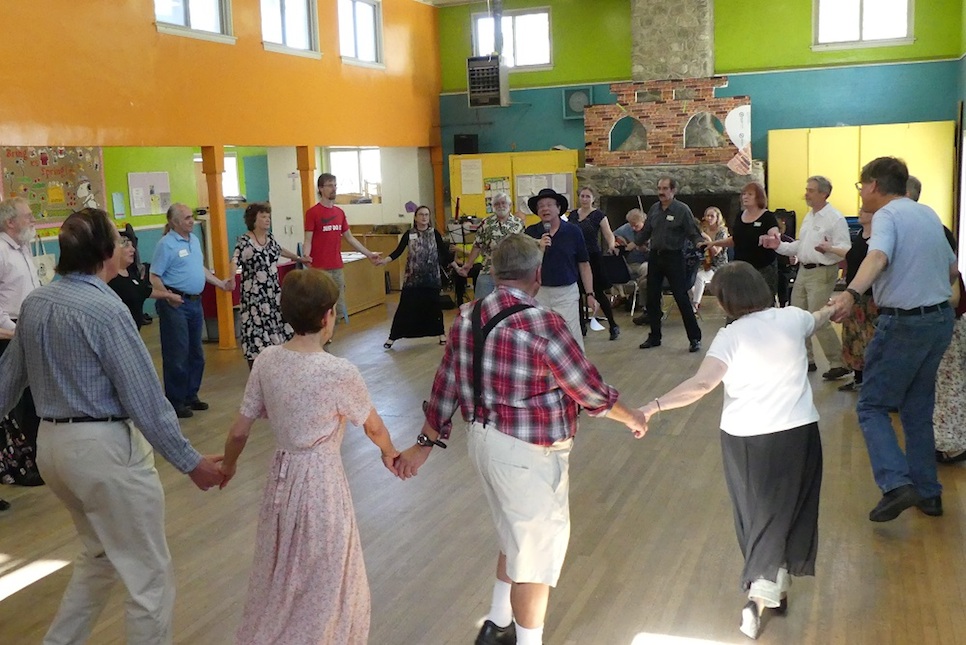 Everyone is welcome at Culver City English Country Dances (CCECD)! Come alone, with a friend, or with a partner. We enjoy meeting and dancing with people of all ages and all levels of dance experience. The dances range from simpler to more complex, and are culled from the whole spectrum of English country dancing, from earliest published dances of the English Renaissance to wonderful new dances written today in the traditional style.
As part of the California Dance Cooperative, Culver City's English country dances are accompanied by live music, performed by respected traditional dance musicians. Instruments range from violins and cellos, to fifes and drums, to keyboard and accordion. Every dance is taught and prompted by some of the best dance leaders Southern California has to offer, allowing everyone from first-time dancers to experienced dancers to enjoy themselves.
Our Vision Statement:
Culver City English County Dance strives to be a vibrant, welcoming, and inclusive dance community sharing fellowship through social English Country Dance.
Our Mission Statement:
Culver City English Country Dance is a social dance encompassing the spectrum of ECD from the 17th Century to the present. Welcoming to youth and adults of all experience levels, we promote community and encourage good dancing through friendly dancers, live music, and a pleasant and informal atmosphere.
We meet every second and fourth Sundays, 4 to 7 p.m., at Lindberg Park Stone House, 5041 Rhoda Way (on the corner of Rhoda and Ocean Drive), in Culver City.
No partner or experience is necessary. Dress is casual (and the hall gets very warm in summer), but please bring clean, low-heeled, soft-soled shoes to change into.
General admission $10; Students and first-time dancers $8. CDSS members get $1 off.
In addition to our regular social dances, there are many formal and fancy dress balls and special events held throughout the year, including our Playford-to-the-Present English Country Dance Ball. The 16th Annual Playford-to-the-Present Ball will be held at the Pasadena Scottish Rite Cathedral on Saturday, October 1, 2016. We are extremely pleased to have Brad Foster as our Dance Master this year, along with an ensemble of talented musicians known as StringFire: James MacQueen, Annie Rodier, Patti Cobb, and Erik Ievins. The registration flyer and more information can be found on the Playford page of the California Dance Co-op website.
Click to see photos from previous years' Playford-to-the-Present Balls.
Next:
Have a look at our Calendar, or see a list of our upcoming CCECD dances.
Learn more about Culver City English Country Dance by reading about our current organization committee or a brief history of our group.
See our roster of Callers or Musicians.
Read more about English Country Dancing, its definition and history, and watch some of our favorite ECD clips from movies.
See videos of English country dances taken at our CCECD dance.
See our list of other local dances and balls.