Culver City English Country Dance is extremely fortunate to have amazing musical talent who provide live music at each dance. Read about our wonderful musicians!
Our current roster of musicians and bands include: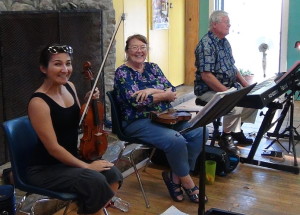 The English Roses started when James Hutson asked Mary Ann Sereth if she and her husband, Walter, were interested in playing English Country Dance music for a class. They emphatically said yes, and have since played the Playford ball several times with different configurations of the band. Keiko Cadby is an excellent and adaptable violinist who also plays in an Argentine Tango band with Mary Ann and Walter. Mary Ann invited Jennifer and Dan Anderson to join the group after she got to know Jennifer through a Culver City big band. Contact The English Roses (Mary Ann Sereth) at masereth@sbcglobal.net.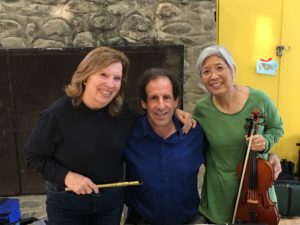 Whirled Peas was founded in 2007 by Patty McCollom (fiddle, banjo, tinwhistle, percussion, vocals) and Bob Altman (keyboard and vocals). They are frequently joined by David James (mandolin, fiddle, guitar and vocals) or Linda Kodaira (violin). They play for English Country Dance, Civil War Reenactments, and Contra dances. The programs feature music and dance from the Old Time American and Celtic traditions. Members of the audience are invited to become part of the show, as either dancers or percussionists. Contact Whirled Peas through their website.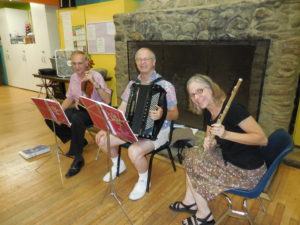 Interfolk includes musicians Kriss Larson (accordion), Jim Garner (fiddle and mandolin), and Aimee Aul (flute). They formed in 1984 to play live music for international dance groups, performing dance music from various European countries, including Balkan, Celtic, Scandinavian, and German. Over the years, they broadened their repertory to include contra dancing and English country dancing, which they've played for more than 10 years now. They use various musicians and change the size of their band depending on the event. Contact Interfolk (Kriss Larson) at trekkspill@aol.com.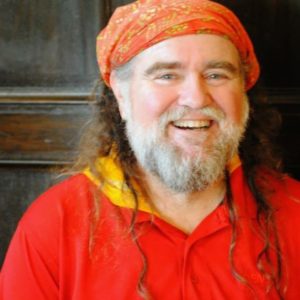 Terpsichorish is made up of musicians Jerry Wheeler (trombone, hammered dulcimer), Mary Ann Sereth (fiddle, bass fiddle), Keiko Cadby (fiddle), Denisa Hanna (guitar), and Walter Sereth (guitar, clarinet). Jerry Wheeler has joined forces with The English Roses to create a newish English country dance band called Terpsichorish. Jerry is a classically trained trombonist and has been a professional freelance musician since 1979. He also sings tenor and has performed in symphony orchestras, classical chamber ensembles, jazz ensembles large and small, rock & blues & folk bands, and just about any style or genre you can imagine (and maybe some you can't). Jerry attended his first contra dance in 2000 and has become increasingly obsessed with folk dance and folk dance music since that fateful day. He became a board member with the California Dance Cooperative and began producing contra dances in 2014 with the goal of eventually creating a folk dance band of his own. Terpsichorish is the result. Contact Terpsichorish (Jerry Wheeler) at tbnjer@aol.com, or call (562) 310-5087.
The Knuckledraggers includes Frank Hoppe (fiddle), Kurt MacInnis (guitar), and Laura Osborn (flute). Frank has been playing for Contras and English dances for 30 years. He has also hosted a radio show called "Bluegrass, Etc." on KCSN (and streaming at KCSN.org) for the past 25 years.