Other Local Dances and Balls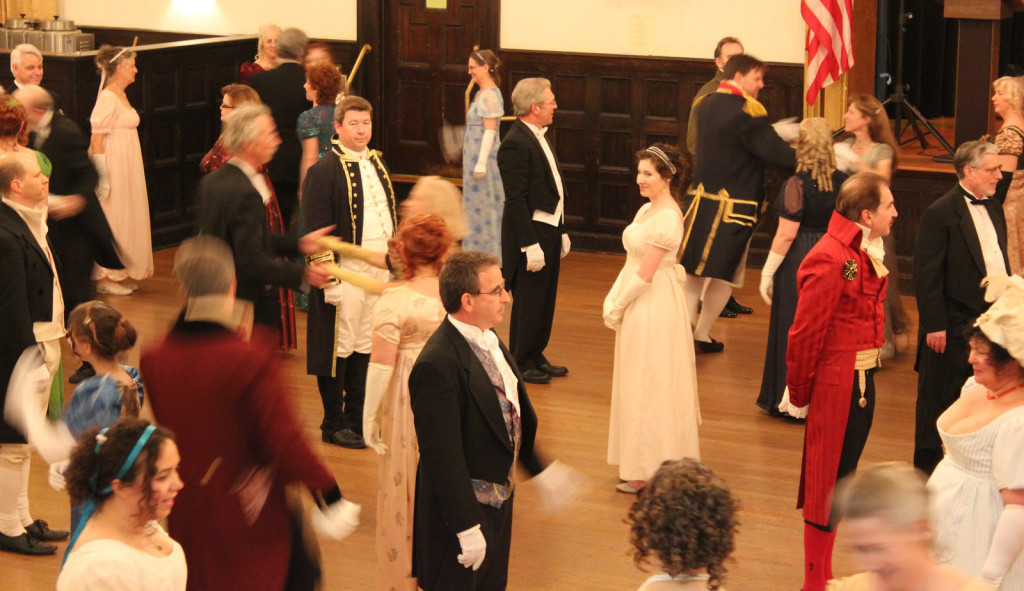 Here's a list of other local dances and balls in the Southern California area. Please consider paying them a visit, and tell them we sent you!
First, check out our parent affiliate: California Dance Co-Operative.
Other SoCal Dances:
Anaheim Dance: 1st, 3rd, and 5th Saturdays, 4:30 to 7:30 p.m. $10. www.ocecd.sdecd.org
Monrovia Dance: 2nd and 4th Fridays, 7:30 to 10 p.m. $5. http://monroviaecd.org.
Riverside Dance: 1st and 4th Sundays, 3 to 4:30 p.m. $5. www.englishcountrydancing.org
San Diego Dance: Sundays, 6 to 9 p.m. $8-10. www.sdecd.org
Santa Barbara Dance: Tuesdays (last Tuesdays for experienced dancers), 7:30 to 9:30 p.m. $5. www.sbcds.org/ecd
Conejo Valley/Ventury Country Area – Parrot Cove Morris: Wednesday evening classes, $8. Email Deborah Castillo: tahoe1720 at aol dot com.
Victorian Tea and Dance Society dances: different Victorian and colonial dances, including lots of English country. First Sunday of most months. www.victorianteaanddance.org
Darlene Hamilton also teaches a dance class on alternate Tuesday nights.
NEW SERIES! First Friday Dance Parties: a mix of english country and contra dances with some couple dances, like waltz, tango, blues, one-step, swing, and schottische, thrown in. Introductory lessons are given throughout the evening, taught by host Renée Camus. First Friday of every month at the South Pasadena War Memorial Building, starting Friday April 7, 2017; 7:30 to 10:30 pm. $12 Gen Adm/$8 students. Visit our webpage (and sign our mailing list) and Like our Facebook page.
Other Local Balls:
Our Playford-to-the-Present Ball, produced by Culver City English Country Dance, is held on the first Saturday in October in Pasadena. www.caldancecoop.org/playford
The Jane Austen Evening, produced by Society for Manners and Merriment, is held in January in Pasadena. janeaustenevening.org/
The Winter Dreams Ball, produced by Santa Barbara Country Dance Society, is held in February in Santa Barbara. www.sbcds.org/wd/
The BACDS Playford Ball, produced by the Bay Area Country Dance Society, is held in March in San Jose. www.bacds.org/events/playford/
The May Faire Ball, produced by San Diego English Country Dancers, is held in May in San Diego. www.thesandiegoball.org
The Admiral Nelson Ball, produced by Orange County English Country Dancers, is held in June in Fullerton. www.admiralnelsonball.com
Some of our favorite dance camps:
Hey Days: English Dance and Music Week, produced by the Bay Area Country Dance Society, is held in August in Sonoma County. www.bacds.org/eweek/
Fall Frolick Dance Weekend, produced by the Bay Area Country Dance Society, is held in October in Aptos, CA. www.bacds.org/camps/fallweekend/
Spring Fever Dance Weekend, produced by the Bay Area Country Dance Society, is held in March in Aptos, CA. www.bacds.org/camps/sw/
Pinewoods Camp, produced by the Country Dance and Song Society; lots of programs throughout the summer. www.cdss.org/programs